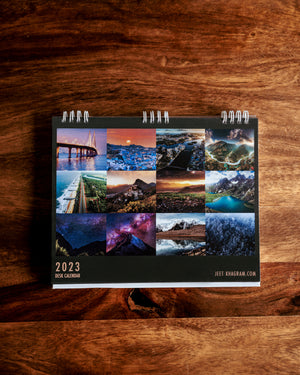 Discover the beauty of India with this Landscape Photography Calendar 2023
Sale price Price Rs. 899.00 Regular price Rs. 1,299.00 Unit price / per
Tax included.
I am delighted to announce the availability of my calendar for 2023!

It has been a great year! I am incredibly proud of the 12 images that appear in this year's calendar. This collection of photos includes woodland scenes, cityscapes, sunsets, and mountainous scenes from the Northern Himalayas

Your support of my work by purchasing my calendar means the world to me.

You'll love the images and the gorgeous print and paper quality.

As we approach the year 2023, I have collected 12 images from my landscape photography calendar that I have taken over the last few years. This collection represents my work from the last year or two.
Additional Information

Shape: Rectangle
Corners: Standard
Orientation: Horizontal
Finish: Glossy / Matte
Material: Standard Glossy / Matte Paper-300 GSM
​Full size when opened:  9.5in W X 7.5in H

How are the images printed and on what paper?
Images are printed from Quality Printer which gives actual colors with quality paper. Material used is Standard Glossy / Matte Paper – 350 gsm
How long does it take to ship an item?
All prints are custom and made-to-order, and as a result, it may take 7-10 working days for your order to reach you depending on your pincode. If you have placed an order with multiple items, please note that your items may arrive in multiple shipments. The estimated delivery times are indicative, and, on some occasions, there might be some unavoidable delays beyond our control. We will keep you informed in case of any delays.
What is the cost of shipping?
Shipping for all orders within India is Free.
How are prints shipped?
Prints with Frames and calendar are carefully packed in bubble wrap and delivered in cardboard boxes
What can I do if my order dispatch is delayed?
We will try our best to get your products to you within the estimated delivery times. If the package has not reached you by the expected delivery date, write to us at connect@jeetkhagram.com and we will try our best to resolve your issues.
Can I track my parcel?
For orders within India, once your order has been dispatched, you will receive an email with the details of the tracking number and the courier company that is processing your order.
You can track the status of your package 24 hours after your order is dispatched from our warehouse.
For frames, canvas, metal or acrylic prints available?
As of now we haven't started prints in Metal or acrylic prints. It will come soon once we are ready with all customisation on material of frames.
Can I cancel my order?
Once the order is shipped Customer cant cancel the ordered
Do you accept returns?
Since its custom made customer can't cancel the order
Do you give refund?
Refund will be given only after understanding the problem and reason of request refund
Is exchange available?
This Products are make to order so we cant exchange against any other product
Can I change my contact number?
Customers can make changes on contact number after registration on our Website
How do I register on website?
You can click on Sign up for Registration on Website
How do I check order status?
Customer get Notification via Email at the same time it can b check from Tracking id relevant courier partners.
If Product Delivered on broken condition, What should i do?
You have to mail Picture of broken product on connect@jeetkhagram.com, We will escalate to support team and refund or exchange after evaluating request
How do I pay online?
You can Pay via Razorpay Payment gateway with all Payment Mode methods
In case of payment failure, how do I proceed?
You can raise request to connect@jeetkhagram.com for the same
Shipping across the country is free and international shipping is flat 2999 up to 1kg